Julio Pueyrredón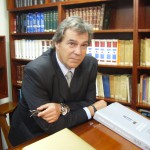 Julio Pueyredón is a partner of Negri & Pueyrredon and part of its Department of General Practice.
He has a long experience on corporate law, mergers and acquisitions, commercial agreements, financial law, capital markets, reorganizations and debt restructuring, white collar crime, money laundering and corporate fraud and technology law.
Julio graduated from the Argentine Catholic University in 1987. He also completed the Lawyers' Training Course organized by FORES and earned the Moltedo Award to the best graduate.
He is professor of  Corporate Law at the Argentine Catholic University and at the post graduate course on "Modern corporate agreements" at the Palermo University. During fourteen years he taught Criminal Law at the Argentine Catholic University.
Julio has been a speaker in more than fifty conferences in Argentina and abroad, and has published more than seventy law articles on matters related to his practice.
He is an international member of the National Association of Defense Lawyers (United States), of the Commercial Committee of the Argentine-Spanish Chamber of Commerce and of the Buenos Aires Bar Association's House of Delegates, where he chairs the committees on budgetary matters and legislative affairs,
He took part in the drafting of several projects on digitalization of legal documents and of the proposed statute against money laundering. He also reviewed the habeas data draft statute and its implementing regulations and the proposed text of the new Civil and Commercial Code. He recently submitted to the Argentine Senate a proposal concerning corporate and commercial law issues.
Areas of practice
Corporate law, mergers and acquisitions, financial and commercial contracts, capital market regulations, white collar crime, exchange control regulations, technology law.
Languages
English and Spanish
.
e-mail: jpueyrredon@negri.com.ar