Commercial and General Practice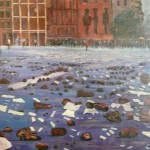 N&P has been involved in all types of complex commercial or financial transactions requiring innovative solutions. The firm's clients have sought advice in connection with fishing activities (Arbumasa), mining (Barrick), winemaking (Finca La Celia, Permasur, Viñas de Altura), cement manufacturing (Holcim), paper production (UPM-Kymmene), publishing (Waverly Hispanica, Editorial Sur); retail activities (bookstores, beer, soft drinks, etc.). Our clients include top participants in the most different markets, and have always found in N&P the necessary legal support to carry out  their activities.
The firm has negotiated and drafted domestic and international agreements of all types (distribution, licensing, stock purchases, credit assignments, leasing, shipping, lending activities), and prepared and reviewed commercial documentation (promissory notes, bills, bills of lading and other shipping documents, stand by letters of credits, memoranda of understanding, letters of intention, etc.). In general, N&P's capabilities and expertise cover the preparation, drafting and negotiation of all necessary documents to reflect any type of deals or transactions and any supplementary tax advise to insure the most efficient structuring of any type of deal. N&P also provides the necessary documentary and court protection to prevent or defend problems arising out of contractual guarantees, representations, product liability, etc.